There are two standard steel hex diameters - 22mm or 25mm. And Our tapered bit and rods come in a variety of taper angles(6 degree, 7 degree, 11 degree, 12 degree)
SUPERDRILL tapered rods are available with high-frequency or fully carburized heat treatments.
Taper Angle:6°,7°,11°,12°
Socket Diameter:H19,H22,H25 MM
Shank Dimension:83,108,159 MM
Taper Drill rods

Shank Style

Rod Length

Taper Degree

mm

inch

Hex 22*108mm

500-8000

1′8″~ 26′2″

6°,7°,11°,12°

Hex 25*108mm

500-8000

1′8″~ 26′2″

6°,7°,11°,12°

Hex 25*159mm

500-8000

1′8″~ 26′2″

6°,7°,11°,12°
Order Guide:
Shank Types + Taper Degree + Rod Length
Advantage
1,Apply Boring Method processing as same as internationally well-known brand
2,Entire heat-treatment ensuring the excellent quality
3,Accurate dimension of taper degree perfectly matches the bit
4,Very cost-effective
Why There are many different Taper?
Different taper angles are used for different rock formations and Rock drills. A wide taper angle is normally used when drilling with high impact hydraulic rock drills in medium hard to hard and abrasive rock formations. Taper angles of 11°and 12° are common on modern rigs.
A narrow taper angle of 7°is used for low impact rock drills and softer rock formations. This angle can also be used if you have spinning problems when using 11° or 12° equipment.
In addition, a 4°46' angle is ideal for soft rock when you're using pneumatic or hydraulic drill rigs – to prevent bits from spinning or becoming detached.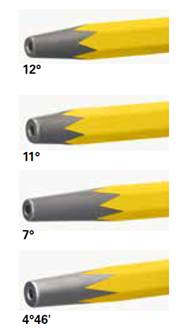 For more details please watch PDF online:Tapered drill rod
Catalogue