G200 Hand Held Pneumatic button bit Grinding machine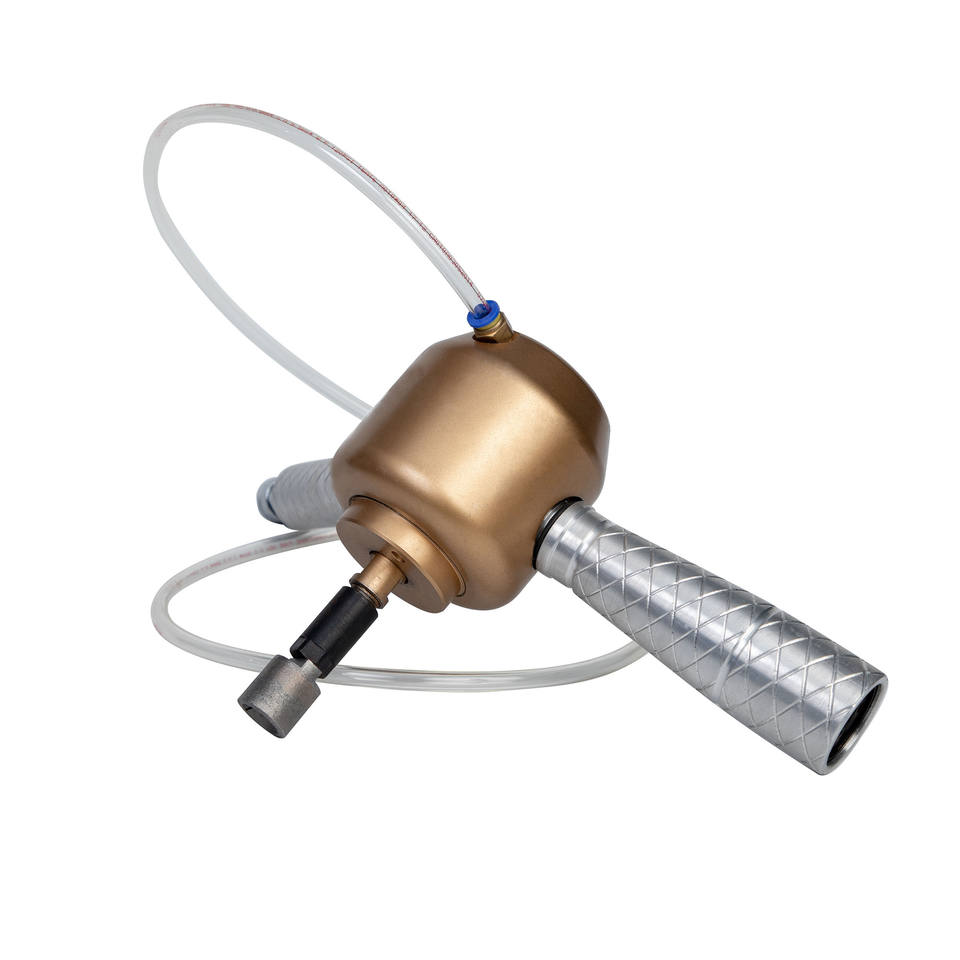 This high powered grinding head, primarily designed to be used in the powerful hand held pneumatic button bit grinder, is configured for hand-held use by ergonomic placement of a very efficient throttle and support handle. Simplicity in design combined with the latest manufacturing techniques gives the operator a powerful tool for the most demanding job.leading the technological evolution of button bit grinding equipment is our aim. Air hand-held Button bit grinder machine (CME button bit grinder,pneumatic button bit grinder) Grinding machine for button bits, grinding pins, Hexagon grinding cup for drill bit, grinding carbide, button bit, DTH bit, tungsten carbide, air flush, water flush, button bit grinder is used for grinding carbide on button bits such as DTH-button bits, and top hammer percussive bits.
| | |
| --- | --- |
| Data Sheet | |
| Air Pressure | 5-7 bar (72-100psi) |
| Air Consumption, max | 35L/S, 2m/2min |
| Water flushing pressure, max | 4 bar(Psi) |
| Ladling speed | 22000r/min |
| Air hole diameter | 19mm |
| Water hole diameter | 6mm |
| For the size of button bits | 6-25mm |
Safety prescriptions
The installation, maintenance, and utilization of the machine is reserved to specialized staff.
Before maKing any cleaning or maintenance intervention verify having disconnected the power supply.
Do not remove the fixed protections of the machine protecting the mobile elements.
Do not put the hands in the parts where there is danger of crushing and/or trapping.
The operator should stay by the controls group in the most distant and protected position.
The make and control the working operations the operator has to position himself always behind the controls group.
The handling of the machine or part of it has to be made with the machine idle, the power supply disconnected, by specialized staff with the appropriate tools.
If it is necessary to replace the machine components, use original spare parts exclusively.
PREVENTION MEASURES AND INSTRUSTIONS FOR MACHINES OPERATORS
BEFORE USE:
Check that the machine is stable and that the grinder is correctly and tightly fitted to the machine.
Check the integrity of the guards protecting parts in motion.
DURING USE:
Report immediately any inappropriate functioning or dangerous situations;
The operator's position needs to be such as not to be in contact with the parts in movement;
Do not remove or modify protection devices;
Do not intervene on mobile parts during the functioning of the machine;
Do not get distracted.
AFTER USE:
Correctly position the machine without leaving the tool suspended;
Carry out the review and maintenance operations needed to reuse the machine with the power supply disconnected;
In the maintenance operations comply with the indications of this manual;
Clean the machine.